A Dream Come True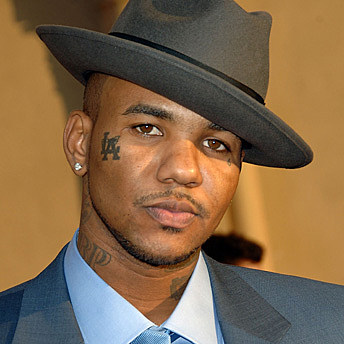 The Game namedrops so much, you've probably heard your name on one of his songs. But here's a mention you can't be mad at—Dr. Martin Luther King. More than punchline filler, Jayceon dedicated "Letter To The King" from his latest LP, L.A.X., to the civil rights icon. And being the contemplative dude he is, Game talked about the record—and the real KING—when I interviewed him back in May, before the song leaked. Zone out to the track below, and read about what MLK means to Compton's Finest.
"Letter To The King" — The Game Feat. Nas
Audio clip: Adobe Flash Player (version 9 or above) is required to play this audio clip. Download the latest version here. You also need to have JavaScript enabled in your browser.
KING "Letter To The King," eh? We're flattered.
THE GAME It's a letter to Dr. Martin Luther King. I was sitting in the studio on Martin Luther King Day, in there smoking—some of my homies, chicks. I'm walking back and forth, and something clicked. I just felt like we were doing the wrong thing on Martin Luther King's birthday. So I kicked everyone out the studio and started thinking. I came up with a concept to write a letter to Dr. Martin Luther King. Originally, I was going to write it on paper, just my thoughts. I didn't know if I was ever going to mail it—or mail it where—but I was probably going to frame it. I started thinking, "I can probably pull this off over a beat." Hi-Tek owed me a beat, and I know he can give me that slowed-down beat where I can really express my mind. So I called Hi-Tek—it took him twenty minutes. He made me a beat and I laid over it, and that was it.
Sounds dope. You also gave MLK a shout on The Documentary, on "Dreams." But, honestly, you'd strike me as more of a Huey Newton follower, though.

A lot of adults that grew up in my era and kids younger than me, they don't know what Martin Luther King did. I was born in '79; I wasn't there when he marched. So we don't really know what he went through. If you think of all the things that Martin Luther King did—like, look how we're living, man. Me and you are on the phone talking about my album. I wouldn't have no album if Dr. Martin Luther King didn't put his feet to the pavement. Who knows where we'd be without that dude. And that's just one man. So when you thinking about all his accomplishments, his hardships and the things that almost rendered him helpless, you'd think we all owe it to him, whatever race you are. We all owe something to Dr. Martin Luther King.
—————————————————————————————
*Hearing Aid Bonus* — "I Have A Dream" Edition
"Dreams" – The Game (Produced By Kanye West)

Audio clip: Adobe Flash Player (version 9 or above) is required to play this audio clip. Download the latest version here. You also need to have JavaScript enabled in your browser.
"Big Dreams" – The Game (Produced By Cool & Dre)
Audio clip: Adobe Flash Player (version 9 or above) is required to play this audio clip. Download the latest version here. You also need to have JavaScript enabled in your browser.
—————————————————————————————
Happy Martin Luther King Day. Share your thoughts on the big homie in the comments.