Web Girl of the Week: Mena Monroe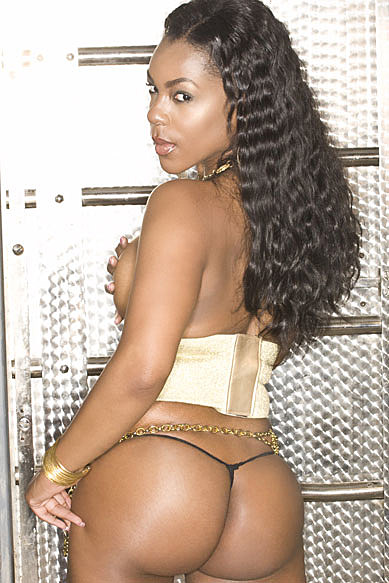 Name: Mena Monroe
Age: 22
Industry Age [You know everyone has one]: As young as possible lol
Nationality: African American
Place of Birth: Detroit, MI
Where do you rep? Detroit whereever I am: )
Height: 5' 5?
Weight: 130
MySpace: myspace.com/menamonroe
Profession: Secretary/ Model
Relationship Status: So single
Measurements: 36DD-25-40
What do you look for in a manÂ…or woman? I like guys that are confident. Swag goes much further then looks with me. I also LOVE a well-dressed man. If a man looks good in his clothes heÂ'll probably look even better out to me.
Favorite Sport: As far as the actual sport goes definitely basketball, but for other reasons football. Their bodies are sick!
Favorite Movie: Goodfellas, Casino, & In Too Deep (sorry thereÂ's 3)
Favorite Artist: Right now definitely Weezy but of all time Jay-Z
Favorite Food: Anything Mexican, steak & mashed potatoes loaded!
Astrological Sign: Pisces
WhatÂ''s your favorite part of your body? Definitely my face & breasts.... Oh yea my ass is nutz too lol: )
McDonaldÂ's or Burger King? McDonaldÂ's all day
Sleep or sex? Sex thatÂ'll put me to sleep lol!
Tell us a funny, but dirty joke. I got nothing: (
The person I would most like to meet isÂ…Will Demps!
Can you cook? IÂ'm actually pretty good in the kitchen.
What were you doing five minutes before this interview? Submitting to various modeling gigs. I stay grinding!
If you had to sleep with one woman who would it be? If I ABSOLUTELY had to it would be Oprah (NO HOMO)& for financial purposes only lol!
What is the most important issue in the world today and why? I believe the most important issue today is poverty & the fact we spend billions on war & canÂ't feed the poor!!
Do you own any adult videos? Sadly far too many for a female, lol!
When did you know you could be a model? I would say around 19 or so...
Can we buy you a drink and if so, what kind? Why sure I would like a Patron Margarita with no salt: )
Ever had a one-night stand? Umm next question, lol honestly no!
Have you ever told a lie? Why of course not...
Did you just lie about having or not having a one-night stand? No I really didnÂ't.
If I ruled the world, I wouldÂ…Make Barack Obama president immediately & lower the damn gas prices!
Doing this will get you cutÂ…Disrespect me or my loved ones.
Lights on or lights off? Either.
The biggest misconception about me isÂ…IÂ''m stuck up or a flat out bitch & IÂ''m really a down to earth goofball.
Tell us something your parents donÂ't know about youÂ…Pretty much half of this interview: (
Preferred type of underwear? thong or boy shorts.. IÂ'm a thong girl but it depends on the outfit really.
What is the most creative thing a guy has said or done to approach you? Offhand nothing rings a bell but it takes a lot to impress me.
If you donÂ't have a lot of money, you better haveÂ…A great body, detailed five year plan, & excellent sex lol!
WhatÂ''s your fetish? I really donÂ't have any off the wall fetishes but I do love when a guy talks ish while weÂ're in the act.
-----------------------------------------------------------------------------------
Want to be KING-Mag.com's next Web Girl? Email your pics and info to sean.malcolm@harris-pub.com