Web Girl of the Week: Ms. Juicci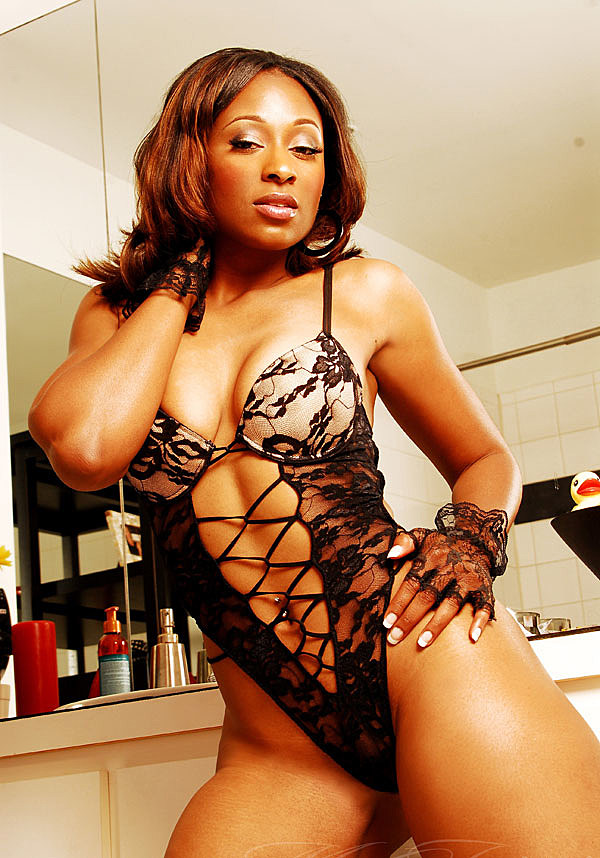 Name: Ms. Juicci
Age: 26
Industry Age [You know everyone has one]: 26
Nationality: African American
Place of Birth: Monroe, Louisiana
Where do you rep? Rayville/Baton Rouge, Louisiana
Height: 5'6"
Weight: 145
Website: msjuicci.com
MySpace: myspace.com/msjuiccijeanisisclothing
Why should people check out your website? I feel people should view my website because, myself, my manager, Summerbunnies.com and my webmaster put so many long days and countless hours into it to make sure my supporters and future fans are very pleased with the outcome. I want my supporters to know that they are getting every penny worth from Ms Juicci.
Profession: Model and C.E.O
Relationship Status: SINGLE
Measurements: 32-25-43
What do you look for in a man…or woman? Well I look for someone that has the confidence to approach me, and I do mean in the correct manner! Someone that has that Kanye West confidence, Lil Wayne swagger, the business mind of Jay-Z and 50 Cent attitude along with straight teeth and fresh breath…LOL
Favorite Sport: Football because those guys look great in those football pants…LOL
Favorite Movie: The Best Man
Favorite Artist: Mary J. Blige
Favorite Food: Seafood
Astrological Sign: Libra
What's your favorite part of your body? Hands
McDonald's or Burger King? McDonald's
Sleep or sex? Sex!!!!!
Tell us a funny, but dirty joke. Don't know any… [Ed Note: You're wack…just joking.]
The person I would most like to meet is… Iman the supermodel and entrepreneur
Can you cook? Of course I can cook—I am a country girl. Hot water cornbread, mustard or collard greens, country fried chicken or pork chops (up pick), and a 7 Up cake.
What were you doing five minutes before this interview? On the telephone confirming another great booking.
If you had to sleep with one woman who would it be? OMG, if I did get down that way, Sanaa Lathan. She is just really pretty and has that sexy swagger.
What is the most important issue in the world today and why? The economy. Why? Because MONEY makes the world go round.
Do you own any adult videos? Yes
When did you know you could be a model? I always knew that.
Can we buy you a drink and if so, what kind? An apple martini of course
Ever had a one-night stand? OMG UUUUMMM no
Have you ever told a lie? OMG UUUUMMM yep
Did you just lie about having or not having a one-night stand? OMG UUUUMMM no comment.
If I ruled the world, I would… change the freaking ECONOMY so that we all can make sure serious dinero around here. It's too much money out here for us not to eat.
Doing this will get you cut… disrespecting my mother or grandmother
Lights on or lights off? OFF
The biggest misconception about me is… that I am STUCK UP, HAVE A NASTY ATTITUDE, CANNOT BE APPROACHED, OR ACT LIKE I AM BETTER THAN EVERYONE ELSE.
Tell us something your parents don't know about you… nothing really. My parents and I have a GREAT RELATIONSHIP. They let me do me!!!
Preferred type of underwear? G-strings by Jeanisis Clothing
What is the most creative thing a guy has said or done to approach you? Nothing. I am still taking applications. So guys, please come with it.
If you don't have a lot of money, you better have… a great job to eat and house yourself.
What's your fetish? Shoes in all types!
BONUS QUESTION:
So…how juicy is it, Ms. Juicci? No comment. [Ed. Note: Look for yourself and make your own judgment, fellas.]
-----------------------------------------------------------------------------------
Want to be KING-Mag.com's next Web Girl? Email your pics and info to sean.malcolm@harris-pub.com